Air Velocity Transmitter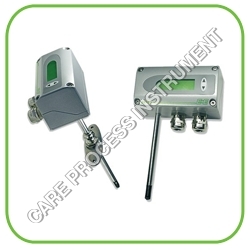 Air Velocity Transmitter
Product Description
Incorporated in the year 2006, we are one of the renowned manufacturers, suppliers and exporters of high quality Air Velocity Transmitter. Made using optimum-grade stainless steel, this transducer device is ideal for transmitting & monitoring the flow of air and other non-combustible gases. Stringent quality control is maintained in the entire manufacturing process to avoid any kind of flaw in its reading. Air Velocity Transmitter, we offer is high in demand among the clients for the below enlisted features:

Accurate readout
Compact design
Easy handling & portability
Longer battery life
Other details:

Air Velocity Transmitter

EE66 air velocity transmitter series are designed for high accuracy
measurement of lowest air velocities. It is the ideal solution for laminar
flow control and special ventilation
applications. The E+E thin film sensor is operating on an innovative hot film
anemometer principle. This guarantees excellent
accuracy for air velocity down to almost 0 m/s, which is not possible for
conventional anemometers with commercial temperature sensors or NTC bead
thermistors EE66 series are available with current or voltage output,
the measuring range and the response time can be selected with jumpers
by the user.
Technical data
Measuring range:
0...1 m/s; 0...1.5m/s; 0...2m/s (adjustable by jumpers)
Response time:
typ. 4s or typ. 0.2s (adjustable by jumpers)
Outputs:
0...10 V or 4...20 mA (adjustable by jumpers)
Supply:
24V AC/DC