Universal Calibrator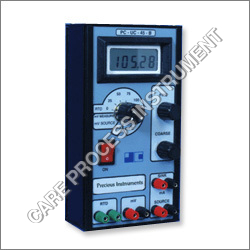 Universal Calibrator
Product Description
Universal Calibrator
We are one of the leading manufacturer and supplier of Universal Calibrator which is designed and developed as per the industrial standards that makes it highly efficient as well as durable. It is equipped with a rechargeable battery to deliver power to this device. The compact and portable design of this device makes it easier to use it. It is equipped with a series of connecting probes to calibrate various systems. Universal Calibrator offered by us has a typical accuracy of 0.1 percent to give precise results. It can be used with both digital as well as analog instruments for the calibration process to make them accurate.
Specification
Features
Specification:-
Hand held, battery operated Portable.
Source and Sink for mV, mA and RTD.
Pt-100 reading directly in terms of deg C.
Typical Accuracy 0.1%. Battery Low indication.
Test facility to confirm DPM and stabilized circuit.
Light weight and with carry bag.
Only Battery operated and battery cum mains operated
Applications
All Digital and Analog instruments related to all process parameters, instruments and sensors having RTD, mV, and mA inputs and outputs.
Power supply Two Batteries of 9V, Size PP3, Make Eveready or equivalent.
Indication 4 Digit LCD display with Battery Low over-range and polarity indication.
Operating Temp 0 to 50C
Effect of temp. change 0.002 % / Ref 25C
Humidity Max. 90% RH non-condensing
Storage Temp 0 to 70C
Battery Life
6 Hours in case of continuous operation for full current output. 30 Hours in
case of continuous operation for mV/RTD output.
Size 170(H) x 90(W) x 45(D)
Weight Max Kg.
| | | | | |
| --- | --- | --- | --- | --- |
| Function | Rage | Resolution at 25 C | Accuracy | Load |
| DC mV (source/sink) | 199.99 | 0.1 mV | +- 1 % of F.S.D. | 5 mA max |
| DC mA (source/sink) | 25 mA | 10 m V | +- 0.1% of F.S.D | 500O at 20 mA |
| RTD (source / sink) | -100 to +400 Degree C OR 247.0 W | 100 m W | +- 0.15% of F.S.D (For 0 to 400 Degree C) | 0.25 watts |